Do you want to know how top executives like Steve Jobs, Mark Zuckerberg and Jeff Bezos achieved the success of their respective companies? Don't miss this post.
"If you do something and it turns out to be a good idea, then you must do other incredible things. Don't think about it for long, just find out what's next." This is just one of the great lessons left to us by Steve Jobs, co-founder of Apple, who died on October 5, 2011.

Considered one of the greatest geniuses in the world, Steve Jobs founded the technological giant at just 21 years of age, along with his adolescent friend, Steve Wozniak. Today, Apple is synonymous with technology and innovation. With annual sales of $230 billion and more than $48 billion profit, Apple is one of the leading companies in the world.
A year younger, at just 20 when he created Facebook in 2004, Mark Zuckerberg started Facebook as a communication network between students at Harvard University. Today it is the largest social network in the world, with 1.86 billion users and annual profits of $27.6 billion.
Jeff Bezos is another of the most acclaimed geniuses of the business world. In 1994, at the age of 30, he resigned as vice president of the technology and investment firm D.E. Shaw & Co., and began to creation Amazon. Today, the company is a giant in electronic commerce, with annual sales of $136 billion.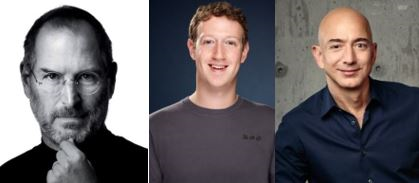 Image: From left to right: Steve Jobs, Mark Zuckerberg, Jeff Bezos.
These geniuses, who one day had a business idea and today lead the digital world, have many things in common, especially in terms of management. Below, we show you 5 management lessons we can learn from them.
Visionaries and scientists, the perfect mix
Visionary leaders such as Jobs, Zuckerberg and Bezos inspire CEOs, CMOs and all the professionals in a company to be better. They have managed to create a company from scratch and bring it to success, always with a perfect mix of being visionary and anticipating market needs. Their ideas also have an important scientific component, and they always analyse the main trends in their industries, to keep a step ahead of their competitors.
Digital natives
These geniuses have an innate ability to thrive in the digital environment: they are knowledgeable about the latest technological developments and know how to carry out their strategic decisions, taking advantage of the new technologies and applying them to their businesses. In addition, they are committed to constant innovation. As Mark Zuckerberg said last May at a Harvard University conference: "Technology keeps moving forward. We must focus more on continuing to train throughout our lives."
Customer-centric
How many times have we heard "the customer comes first"? This sentence is part of the DNA of the greatest geniuses in the world. Placing the client at the center of any business strategy is key to leading a business to success. At a time when the consumer is evolving rapidly, investing resources in a user experience is essential to attract new leads and convert your current clients into evangelizers of your brand. As Jeff Bezos says, "There is nothing better to keep you up to date than to make your company always revolve around the customer."
Teamwork
The greatest assets of these companies are the people. Caring for talent in your company and encouraging employee motivation is a key strategy for the growth of a business. The business geniuses of the world know this, and have surrounded themselves with the best professionals and encouraged teamwork. By rewarding the personal value of each member of a team, employee contribute their best every day. All this drives a company's know-how and its growth.
Diversify, reinvent yourself
The best way to grow your business is to know how to conquer new market niches and expand your presence in industries that can help to grow your company. Don't stop. Reinvent yourself. In this way, you will be one step ahead of your competitors.

If you want to become a genius at digital marketing, and make the most of all the values we've mentioned in this post to grow your company, don't miss The Inbounder Global Conference 2018, on April 25 and 26 at the Municipal Palace of Congresses of Madrid.
The most-attend event in digital marketing in Europe will have the best experts in areas as fundamental to the industry as SEO, social media, content marketing, CRO, etc.
Keynote speakers from around the world, such as Rand Fiskin, Aleyda Solis, Mike King, Talia Wolf, Purna Virji or Melanie Deziel, and many others, will bring you up to date with the latest trends in the sector and give you advice to grow your business.