If I'm looking for product or service recommendation today, I am far more likely to reach out to a trusted source than I am to begin the laborious process of using Google to find specifications and reviews.
A quiet revolution has happened over the past 4-5 years - the fragmentation of digital networks, whereby most of our communication with others has moved to private online networks via Slack, WhatsApp, Messenger, and others. Those of us who are mainly digitally active are mostly members of many different groups, coalescing around professional networks, family, circles of friends, and various subcultures.
So, for a variety of topics and areas of interest, we're all sat on individual recommendation engines that are far more powerful than Trip Advisor, Amazon Reviews, and The Michelin Guide combined - the people we know and trust.
That is why today, "Brand" matters more than ever. In 2019, the connection someone feels to your company affects not only direct sales, but critically, how they speak about you to others.
Therefore, as marketers, many of us are increasing our investment in brand marketing tactics, most notably video advertising.
Emarketer.com predicts that this year programmatic video advertising will account for almost 50% of total digital ad spending, and will continue to grow linearly to a $40 billion spend in two years.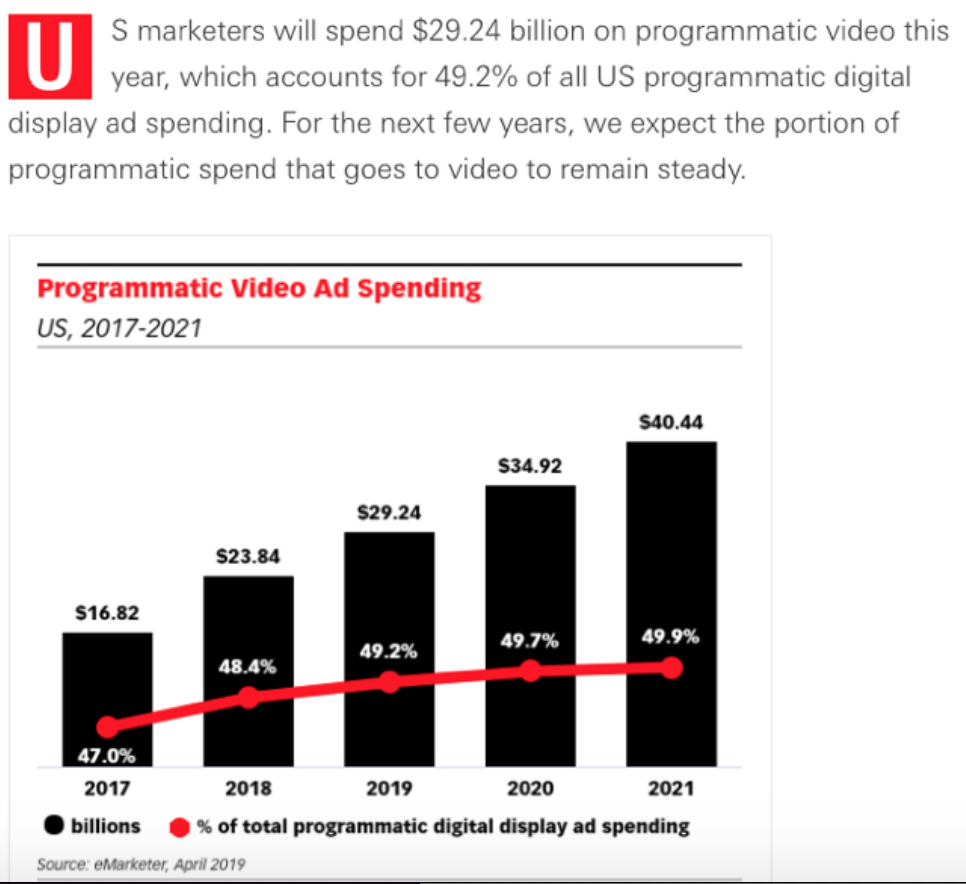 However, there's a significant problem with this approach. Interactions with ads are very short.
Few users will spend more than a couple of seconds perusing a promoted Facebook video (see the audience retention graph below)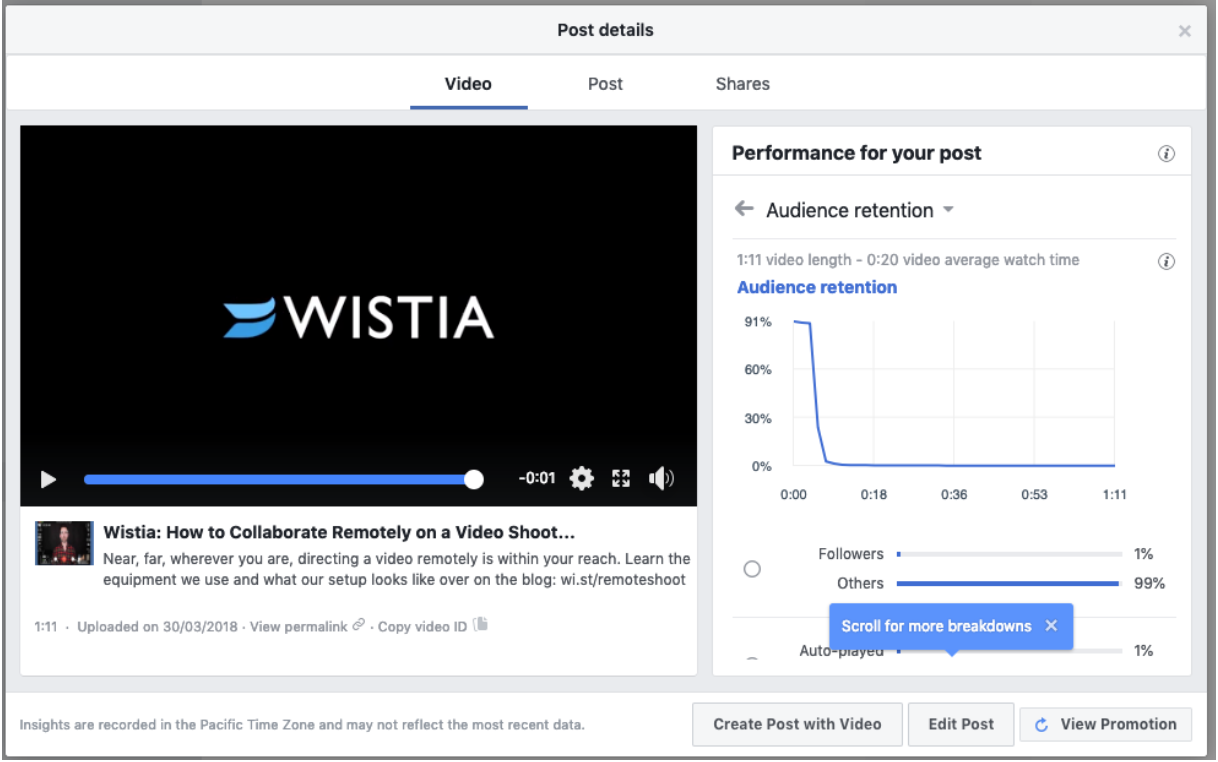 So, while YouTube offers InStream & TrueView Ads, which mean you only pay after a certain amount of a video has been watched, those thresholds are only 15 and 30 seconds.
These offerings are variants on the primary way brands have been built for the last 70 years - via TV advertising. The aim is to get more people aware of your company and offering, to associate that impression with a specific message and emotion, and thereby to influence the way you think about a business.
However, in a world where we have more cognitive and technical tools than ever to ignore the ads we don't want to see, as well as do our research in seconds, this approach no longer works.
Many, short interactions, achieved through interruption, don't create brand affinity. Video ads distributed en masse may make many people aware of your existence, but digital advertising on its own doesn't make people like you.
This is what most of us are trying to achieve with our growing spend on promoted video - we try to come up with a creative so good, that it will make people fall in love at first sight.
Very occasionally, it works.
Old Spice, Dollar Shave Club, Dove, John Lewis, and others all stand as a testament to what is possible through video advertising. However, the possible is not the probable, and the vast majority of businesses investing in brand advertising with video are wasting billions of dollars trying to become the next viral sensation.
Keys to Retaining Your Users Through Long-Term Video
We used to be one of them.
In 2017, Wistia spent a massive amount on digital advertising, promoting videos like this, in the hope that this would increase interest in our brand and product.
The results were disappointing. We got a few new sign-ups directly from ads themselves, but, as soon as we stopped running them, we saw no halo effect. Brand search volume remained static. Few people were talking about us on social media. The sign-up rate for our app remained steady. It was hard to escape the unfortunate conclusion that the direct conversions were the only value we received from this significant advertising investment.
Once bitten, twice shy a year later - but no less determined to grow our brand - we decided to try something new.
Instead of buying up ads in front of other people's TV shows, we were going to make our own.
We took the money and time we would have spent on an ad campaign and decided to instead partner with Sandwich Video in LA to create a 90-minute documentary - One, Ten, One Hundred.
In October 2018, we launched this on our website and Amazon Prime - then used our organic and paid marketing channels to promote the content just like a TV show.
It didn't go viral. The view counts were in the tens of thousands, rather than the millions. However, what did happen is that people spent time with the content. The average view duration for our documentary was 45 minutes.
The results? Our brand search volume is up 11% since we launched the series (and staying stable), along with a commensurate improvement in our sign-up rate.
We're not the only ones to have jumped on this trend. MailChimp has recently started producing their shows through MailChimp Presents, ProfitWell is many episodes into their show, Protect the Hustle and a small guitar shop in Guildford, the UK called Anderton's have built a global following with their eccentric guitar reviews.
The key things that make the difference are choice and time. Someone voluntarily choosing to sit down for 45 minutes and watch your content is going to be far more invested in your business than someone who has been repeatedly interrupted for a few seconds with content they haven't chosen to watch.
Affection develops with time, and to build a lasting brand in 2019, you need to secure an investment of time from your target audience.
The best way to do that is by creating content they can binge on, which, in the Netflix era - means entertaining long-form video.