They always say you should learn from the best. Let's take a look at the success story of SEMrush, the best digital marketing tool out there.

SEMrush is a bootstrapped company, meaning that paid channels were inevitably out of reach. They had to be creative to get traffic by hook or by crook. Early on, they realized the potential of unleashing the power of influencer marketing and turned it into their number one marketing channel that generated traffic and leads.
SEMrush started connecting with industry leaders by simply giving away their product and offering an enormous number of promo codes. Without spending much money, they started being featured in SEO and digital marketing blogs becoming as visible as their direct competitors like Moz, Ahrefs, Searchmetrics, and SpyFu. To top it off, leads that were coming to their site have already gained a certain level of trust and were easily converting into paid clients.
Of course, things have changed quite a bit since SEMrush started their email blasts with "Dear webmasters." Today over half of the emails we get daily is spam. If you want your email to stand out and have a chance to be read, you need to get creative.
The underlying logic, however, remains the same. It's easiest to convince experts to promote your product by offering them value. In this post, I'll share with you how to find influencers and to connect with them in a way they can't ignore you.
Types of influencers
First, you need to decide who you want to collaborate with. There are four main types of B2B influencers based on their main content format:
1. Influencers focused on written content
This type of influencer is best if your goal is quick traffic wins. Depending on your niche, even small blog contributors can bring you a laser-targeted audience that is interested in your product or service.
Let's take a look at what sites bring traffic to the Digital Olympus site as an example. Even though I write for top-notch blogs like SEJ and Moz, only guest posts on Ahrefs send a good amount of referral visitors. Most of my referral visitors come from smaller industry blogs.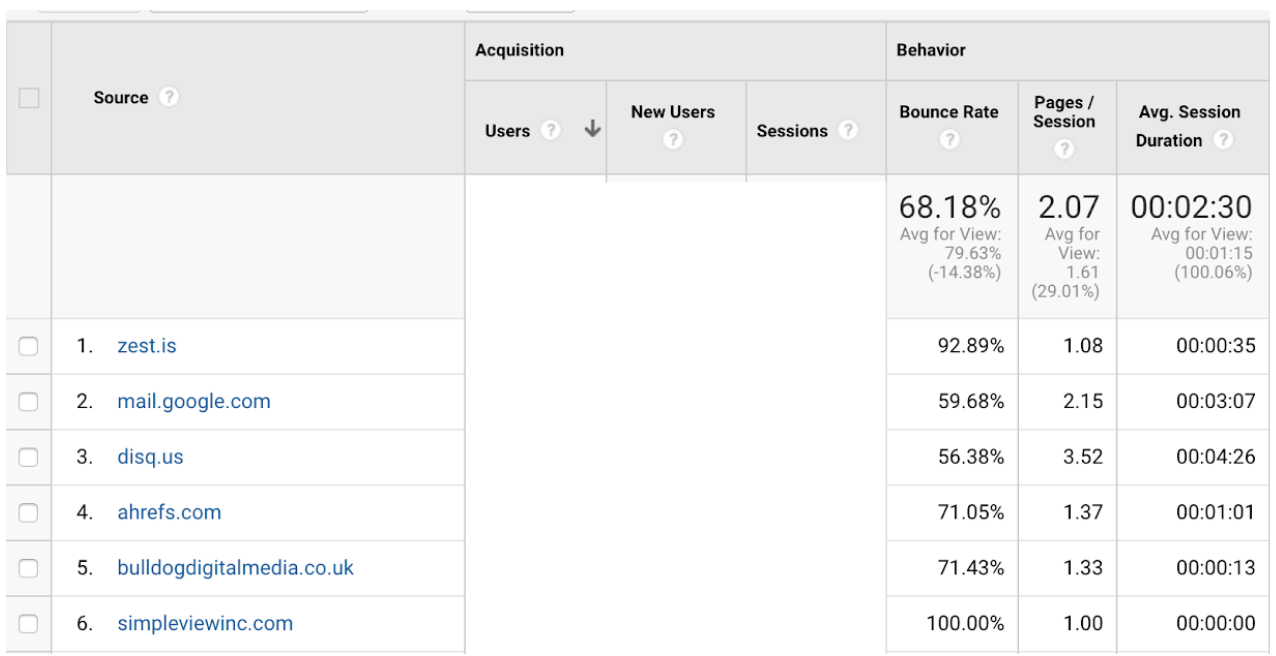 To back up my words with some data, here's how Ahrefs vs. Bulldogdigitalmedia.com blogs SEO performance looks like:

As a bonus, besides referral traffic, influencer bloggers help you boost your SEO performance when they link back to your site. Organic search remains the most reliable traffic source, so it's too good of an opportunity to pass up.
Digital marketing tool Nightwatch.io is a great example of using influencer marketing strategy effectively. Since its launch in 2017, they have been collaborating with many bloggers and industry experts, which resulted in Nightwatch.io building over 600 referring domains. Quite impressive!

At the beginning of 2019 we've decided to revamp our link-building strategy and experiment with our approach. This led us to initiating multiple collaborations with influencers, bloggers and websites' owners. We also focused heavily on fostering relationships with micro-influencers in the world of SEO. We mutually exchanged links, quoted each other in the articles and introduced our products, services and valuable resources to each other's audiences.

As a result, our link-building efforts accelerated beyond our expectations, tripling our previous results. Of course, apart from acquiring backlinks, we've built valuable relationships and continue to collaborate with the influencers we connected. It turned out to be a great way to increase our brand awareness and generate new leads.

-Aljaz Fajmut, CEO of Nightwatch
2. Influencers focused on public speaking
This type of influencer is usually considered to be a niche celebrity, meaning that they are tricky to approach. The rule of thumb is that the more prominent and well-known the events they're involved in are, the less likely they'll be interested in partnering with your brand. However, even the best of the best can get inspired or excited about some exclusive data or product features, and that is how you can try to squeeze in.
Traffic analytics tool Jumpshot did just that. They partnered up with Rand Fishkin by providing him with unique insights and analytics on the way people search. Rand saw value in their analytics insights and is now happy to give shout-outs to Jumpshot at his keynote speaking gigs. On the screenshot, I marked his most recent talks that had included Jumpshot data and referenced with the red arrows: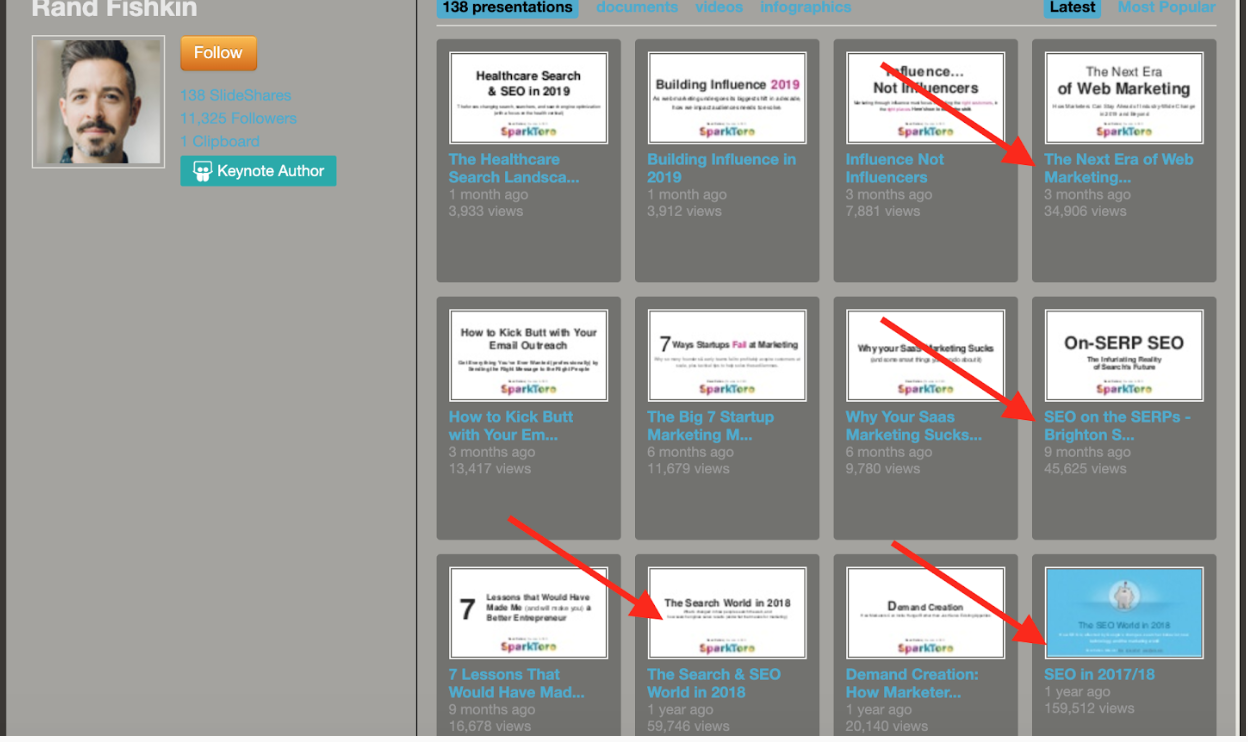 3. Influencers that are into both speaking and writing
Hello, world, that's me! I do a bit of everything from speaking at events to having a few regular columns like the one on the SearchEngine Journal and Moz blogs. To top it off, I occasionally write for some smaller blogs. Influencers in this category are a good catch as you are killing two birds with one stone.
They will be an excellent pick for you if you are trying to create awareness, generate leads, and improve your SEO performance.
4. Micro-influencers that are doing a bit of everything
In every industry, you'll find so-called micro-influencers that know a lot of people and are active across their SMM channels. Typically, they have loyal followers, which makes content sharing very authentic and personal. It's your chance to build trust and establish relationships with your potential clients. I would highly recommend connecting with those guys also because they can introduce you to more influential experts. Being a part of a tribe is invaluable.
As you can see, your choice of influencers to reach out to mainly depends on your goals. If your goal is to make sure you're selecting influencers that are the right pick, decide whether your current focus is to boost your SEO by acquiring more traffic or grow your brand awareness.
How can you find influencers?
Once you decide on what kind of influencers you want to work with, the next question is how to find them.
There are two key ways for B2B brands to establish strong relationships with influencers: (1) paid engagements and (2) good old fashioned connection.

For paid engagements; it's easier to convince a B2B Influencer to talk about your brand after you work with them. Whether it's sponsoring their podcast, sponsoring their event, flying them out to a conference or paying them to contribute to your site — influencers will scratch your back if you put them at some point. It builds a lasting connection.

On the flip side, connections can be built over time through 1-1 connections. If you're spending time with Influencer at events or through simple calls and emails — all of these little efforts can compound into strong relationships.

-Ross Simmonds Digital Strategist, Foundation Inc
Let's start with bloggers. Experts that contribute to your industry blogs are quite easy to find using BuzzSumo. This tool allows you to export all posts published on a particular blog in the time you choose. Here is, for instance, all Moz blog contributors in the last 12 months: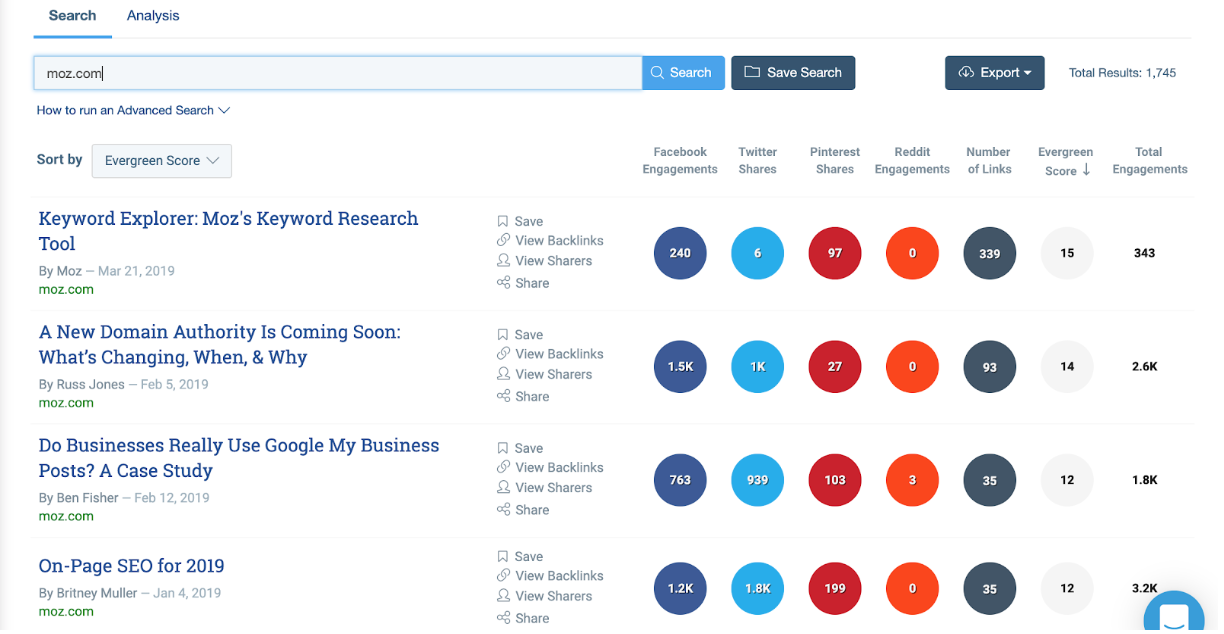 Another way to find influencers is to search by topics that are relevant to your niche. This approach is a bit more complicated since you will have to sort out the authors that write for their own corporate blogs.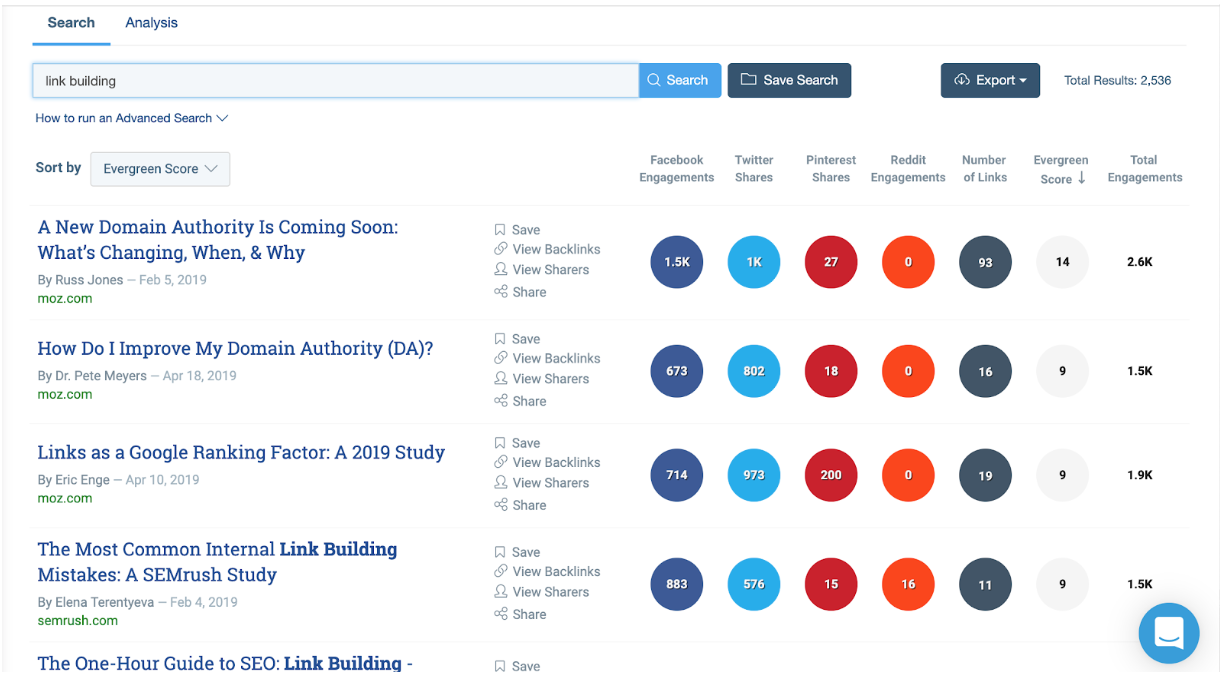 Hint: Do your research! A lot of authors that write for blogs accepting guest posts work for the brand they are promoting. That means there's no way but to manually check every author to avoid wasting time on pleasing a copywriter that has near-to-no influence and no control over the content.
If you are interested in speaker influencers, you're in luck because it's pretty straightforward to find them. Go on your niche conferences' websites and look up the speakers. I also have a few workarounds to make your life easier:
1. Search on SlideShare via your niche-related terms
2. Check round-up posts that feature the very best experts by using advanced search operators like intitle: "your term" and inurl: "your term." For instance, a search query "intitle: "content marketing experts" shows all round-ups featuring content marketing experts: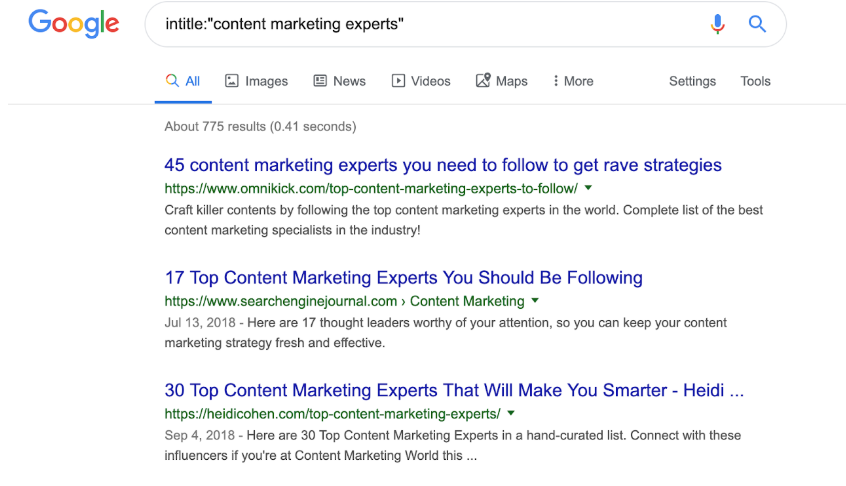 2. Besides round-ups, you can search for individual experts using advanced Google search techniques. For instance, you can try using intitle:"content marketing speaker"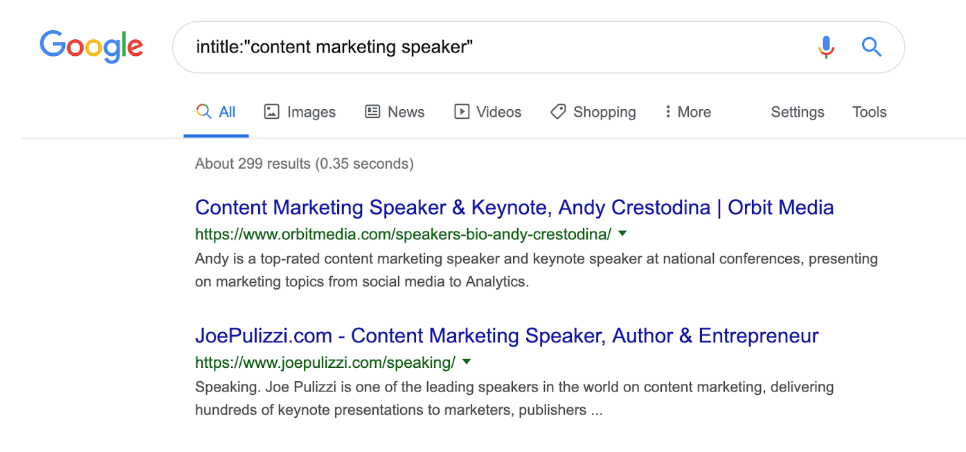 4. Finally, I would recommend utilizing the Followerwonk tool to find influencers on Twitter by searching Twitter bios and then exporting a list of users at once.
Hint: Some blogs and events create a Twitter list of their speakers and guest contributors. You should be sure to check out whether this is relevant to you as well. For example, here is a list of all the MozCon speakers grouped by year.
Bonus:
Robbie Richards is known in the SEO industry for using insanely detailed expert round-ups to rank for competitive search terms and build relationships with key influencers. For example, he recently published a round-up where he asked 48 SEO agency executives which software they use to run successful campaigns for clients.
The post ranked on the first page in a matter of days, and more importantly, he made valuable connections that were amplifying his content across social channels like LinkedIn and Twitter.
I asked Robbie how he finds the right influencers for his round-ups:

I am typically looking for a specific persona for my round-ups. i.e., SEO directors and managers. To quickly build massive lists of outreach targets, I do the following:

LinkedIn Sales Navigator + SellHack: I'll hand off profile parameters to a VA to scrape contacts out of LinkedIn and collect emails inside SellHack. Before outreach, I'll send connection requests to these targets to try and warm them up.
Top Agency Lists: I'll have a VA go through the top agencies and extract contact information for senior SEO executives. Again, I'll connect with them on LinkedIn.
Speaker Lists: I'll have a VA go through a list of industry SEO conferences and build a list of expert speakers.
Ask for Referrals: I'll send all the roundup prospects a Google form to fill out. The last question on the form asks for them to list someone who they think could provide valuable insights. I get loads of great connections from this alone.

"Copy and subject lines are important but a lot of reasons why influencer outreach doesn't work is simply down to the fact that the email doesn't reach the influencer's inbox. It's critical that your outreach actually reaches the influencer's inbox. Invest in a good email finder to ensure you connect with these influencers and build a long-term relationship." - Sujan Patel, Voila Norbert co-founder
There are many great online resources to help you find industry experts. Take this step seriously because some of those experts could potentially turn into your long term partners, which brings us to the next question.
How can you build relationships with influencers?
Well done! You have a list of experts that you want to connect with, and now, it's time for action.
Not so fast! Building relationships might sound easy, but in reality, it is a tricky and challenging process that can take months or even years to accomplish and will depend on the influencers' mood and present-day priorities. So brace yourself and be ready to get hundreds of "thanks, but no" emails.
The key to success is to take your time to plan and do some "homework" before reaching out to your industry experts.
Step 1: Create a positive attitude towards you and your brand before sending your pitch.
It's not a secret that people are more likely to respond to a person they know or have heard about; this is especially true with influencers. Come up with an excellent icebreaker to make sure your email does not get ignored.
When I want to connect with an expert, I start by checking their recent posts and upcoming speaking gigs. I'm searching for content that I could share across my channels. You'll be sure to get their attention by putting together a good-looking social media shout-out. I prefer to start with Twitter since B2B influencers tend to be more responsive on this social media platform.
Another great strategy is to leave meaningful comments on their blog posts. A non-spammy comment is a real gem today, so it will make you stand out.
Here is another idea that Georgi Todorov from Digital Novas shared with me for that post:
One of the best ways to build a relationship with influencers or industry experts is to participate in the same community as they do. By doing that you're not in the lower position of a fan who is reaching out to them but you're their equal, you're one of them because you're hanging out at the same place they do.
Step 2: Pick the right angle to start a conversation.
Once you've had a little icebreaker and got some reaction from the expert, it's time to structure your pitch. You want them to promote your brand of course, but you shouldn't be asking for that at the very beginning.
The secret to making experts want to feature you in their content is to bring them value first. It's hard to know what each influencer wants or would appreciate but here are some tips that will let you put a foot in the door:
If an expert works somewhere full-time, always concentrate on promoting influencer's projects rather than their employer's;
Carefully analyze all the influencer's channels to find out what's on their radar;
Find a broken link on their site or any other glitch and let them know;
Link back to one of their posts and notify them about it.
The best way to get on a company's radar is to engage with them before pitching an idea. The goal here is to get on the company's radar before reaching out to them formally. Here's a few ways you can do that.

Find a recent blog post by a member of their team that you intend to build a relationship with and share it on social media. And I don't just mean liking or RT their content on Twitter. That's not going to make you stand out. Actually take the time to read their content so you can provide a helpful anecdote in your social post. When crafting your social post, consider:

Speaking to the author directly and tagging them in the post;
Listing one helpful piece of information or quote from their article;
Including the link to their article;
And tagging the company.

A piece of advice, make sure to tag the author as well as the source of where you read their content. Why? Because tagging a profile on social channels like Twitter gets you in their notification feed, making it easier for them to respond to you, especially if they don't know who you are.

Then, once you've engaged with them on social media, write a thoughtful response as a comment on their actual blog post. Instead of just saying "great post!," tell them why you liked it. Consider even offering a few tips of your own if it makes sense and provides value. If you want to keep the conversation going, then consider asking them a question in your comment. However, make it about the post and building a relationship with them.

I recommend doing this one to two times before actually reaching out via email to a contact at the company. This way, you have something to talk about as a conversation starter – how much you like their content.

Justin Champion, author of Inbound Content and Content Professor for HubSpot Academy.
Step 3: Involve the experts in your content
Hooray, they're responding to you and are happy to explore ways of partnering with your company. However, it's still too early to ask them to mention your brand in their content. Let things develop naturally and don't make them feel pressured.
My favorite way to move further is to involve the experts in my content marketing. At least 43% of B2B marketers also think that blogs are the most important type of content. Another reason why adding experts' quotes is a compelling strategy is because it helps you build trust. Finally, content that features influencers is much easier to promote since they will also share it on their accounts.
Here are some ideas on how you can involve experts in your next piece:
Add their quote.
Create a round-up post and get creative with it. For example, hire a designer and make it more engaging and interesting. Here's an excellent example of a round-up post about outdated link building strategies.
Shoot a series of videos with experts at the next digital marketing event that you'll be attending or sponsoring.
Co-host a webinar with the influencers.
Invite them to join your next Twitter chat as a guest host. Ann Smarty, with her weekly #vcbuzz chat, is an excellent example of getting the most out of the platform. By engaging in conversations with 100% of her target audience, she not only builds relationships with the influencers but also creates awareness for her social media promotion service Viral Content Bee.
Here at Moosend, we love partnering up with experts! Every time we aim to publish an article where an expert's opinion can be included within the piece I personally reach out to key people within that niche and kindly ask them whether they would be interested in being part of it.

This allows us to enhance the overall authority of the article as well as provide various points of view that we might have missed (we rarely do)!

Finally, those types of one-way collaborations can be easily transformed into an even deeper collaboration with said expert, for example, they might want to write a dedicated article on our website and/or vice-versa.

Nick Dimitriou, Head of Growth and Partnerships at Moosend
The options are truly endless and depend on your end goals. Here is a great post that can help you brainstorm more ideas by analyzing your industry-leading content and some other data sources.
To sum it all up
Like any other digital marketing strategy, influencer marketing can turn out good, bad, or ugly. And the outcome is entirely up to you!
My biggest advice is always to be honest. Don't send an endless email detailing how awesome you are and how lucky they'll be to work with you. Instead, try to find common ground by asking if you can help promote their content. Or you can even start by something unrelated like sending an influencer a t-shirt with your logo with a lovely personal note. Later on, it will be a great reason to follow up and see how they like the t-shirt.
The backbone of a successful influencer marketing strategy is research and planning. Take your time to find the right influencers and think of the best way to put your foot in the door. The time you invest in doing your "homework" will pay off in the end.